Associate Professor of Biochemistry
Director of Berry College One Health Center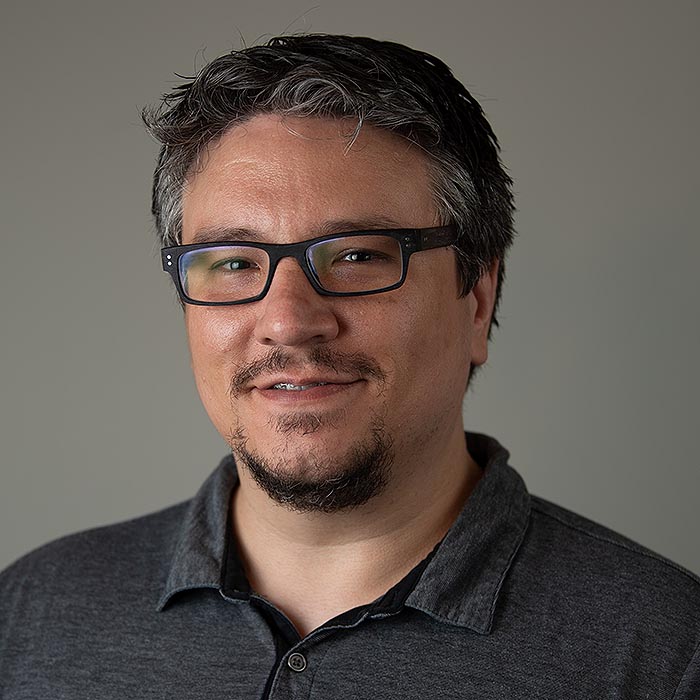 Department: Chemistry and Biochemistry
Campus Box: 5016
Location: McAllister Hall 303A
Dr. Qualley is an Associate Professor of Biochemistry who teaches the biochemistry sequence courses, including Biochemistry I, Biochemistry II and Experimental Biochemistry. His research activities have been focused on the structure and function of viral proteins that are implicated in the assembly and release of viral particles from an infected cell. Past efforts have included work with bovine leukemia virus, while newer projects have been developed to examine analogous proteins found in feline leukemia virus and West Nile virus. Research techniques currently employed in the Qualley lab include recombinant protein expression and purification, site-directed mutagenesis, fluorescence anisotropy, Förster resonance energy transfer (FRET), and computational techniques such as comparative modeling and molecular dynamics. More recently, Dr. Qualley has started to employ protein nuclear magnetic resonance (NMR) spectroscopy as a tool to solve the three-dimensional structure of certain proteins of interest and to elucidate regions of viral proteins that are involved in packaging the viral genome during assembly.
Dr. Qualley is also the director of the One Health Center at Berry College (https://www.berry.edu/academics/schools/school-of-math-and-science/one-health), where faculty across disciplines collaborate on global health concerns using an approach that encompasses human health, animal health, and environmental health.
Education
NIH Postdoctoral Fellow, Biophysics, The Ohio State University

Ph.D. Chemistry, University of Alabama

B.A. Psychology, University of Minnesota
Teaching Interests
Biochemistry
Experimental Biochemistry
One Health
Research Interests
Biophysical study of viral assembly pathways
Structural biology of viral proteins
Protein 2D and 3D NMR spectroscopy method
Selected Publications
"Solution conformation of bovine leukemia virus Gag suggests an elongated structure", D.F. Qualley, S.E. Cooper, J.L. Ross, E.D. Olson, W.A. Cantara, and K. Musier-Forsyth. J. Mol. Biol., 2019, 431, 1203-1216.
"Bovine leukemia virus nucleocapsid protein is an efficient nucleic acid chaperone", D. F. Qualley, V. L. Sokolove, and J. L. Ross. Biochem. Biophys. Res. Commun., 2015, 458(3), 687-92.
"Single aromatic residue location alters nucleic acid binding and chaperone function of FIV nucleocapsid protein", H. Wu, W. Wang, N. Naiyer, E. Fichtenbaum, D. F. Qualley, M. J. McCauley, R. J. Gorelick, I. Rouzina, K. Musier-Forsyth, and M. C. Williams. Virus Res., 2014, 193, 39-51
"Oligomerization transforms human APOBEC3G from an efficient enzyme to a slowly dissociating nucleic acid-binding protein", K. R. Chaurasiya, M. J. McCauley, W. Wang, D. F. Qualley, T. Wu, S. Kitamura, H. Geertsema, D. S. Chan, A. Hertz, Y. Iwatani, J. G. Levin, K. Musier-Forsyth, I. Rouzina, and M. C. Williams. Nat. Chem., 2014, 6(1), 28-33
"Expression, purification, and characterization of full-length bovine leukemia virus Gag protein from bacterial culture", D. F. Qualley and B. L. Boleratz. Protein Expr. Purif. 2014, 93, 32-37
"Inositol phosphates compete with nucleic acids for binding to bovine leukemia virus matrix protein: Implications for deltaretroviral assembly", D. F. Qualley, C. M. Lackey, and J. P. Paterson. Proteins 2013, 81(8), 1377-1385
"C-terminal domain modulates the nucleic acid chaperone activity of human T-cell leukemia virus type 1 (HTLV-1) nucleocapsid protein (NC) via an electrostatic mechanism", D. F. Qualley, K. M. Stewart-Maynard, F. Wang, M. Mitra, R. J. Gorelick, I. Rouzina, M. C. Williams, and K. Musier-Forsyth. J. Biol. Chem 2010, 285 (1), 295-307
NOTE: Berry College undergraduate co-authors are underlined
Professional Associations