An innovative approach to learning innovation
You have a big idea. We'll help you bring it to life (and maybe even bring it to market) through our interdisciplinary creative technologies program.
Combining the liberal arts, computer science, design thinking and business, you'll hone an entrepreneurial mindset, master interpersonal communication skills and develop a firm grasp of the business and economics of tech.
You'll be guided by passionate professors and surrounded by fellow innovators as you develop and pitch your ideas, sharpen your problem-solving skills and prepare for a life and career as big as your ideas.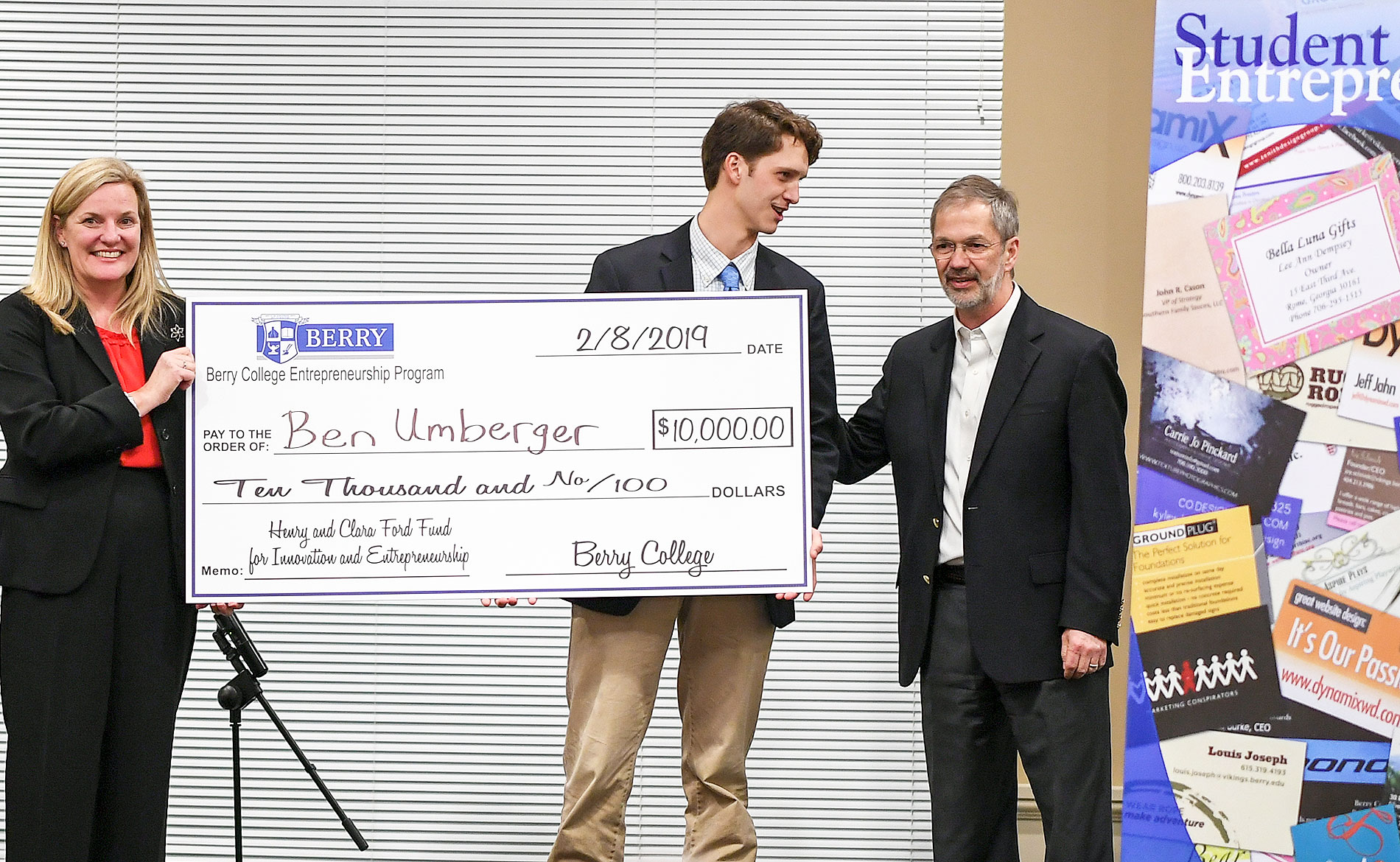 Don't wait to innovate. Manage actual (college-supplied) funds through the Berry Investment Group, participate in hackathons and pitch competitions and work as a paid employee in the Berry business office.
Creative Technologies
FACULTY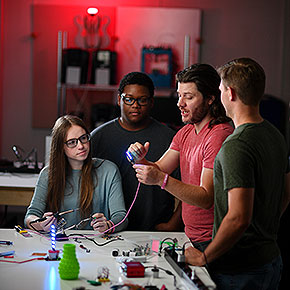 Clinical Instructor of Creative Technologies
Zane Cochran
As a clinical instructor and director of HackBerry Lab, Zane teaches a variety of prototyping and design thinking topics within the creative technologies program at Berry College. His research focuses on maker-oriented learning and embedded electronics in wearable technology, and he actively consults with primary and secondary schools in developing STEM-based makerspaces for their students and faculty. In addition to teaching and research, he actively exhibits his interactive creations in museums, galleries and fashion shows.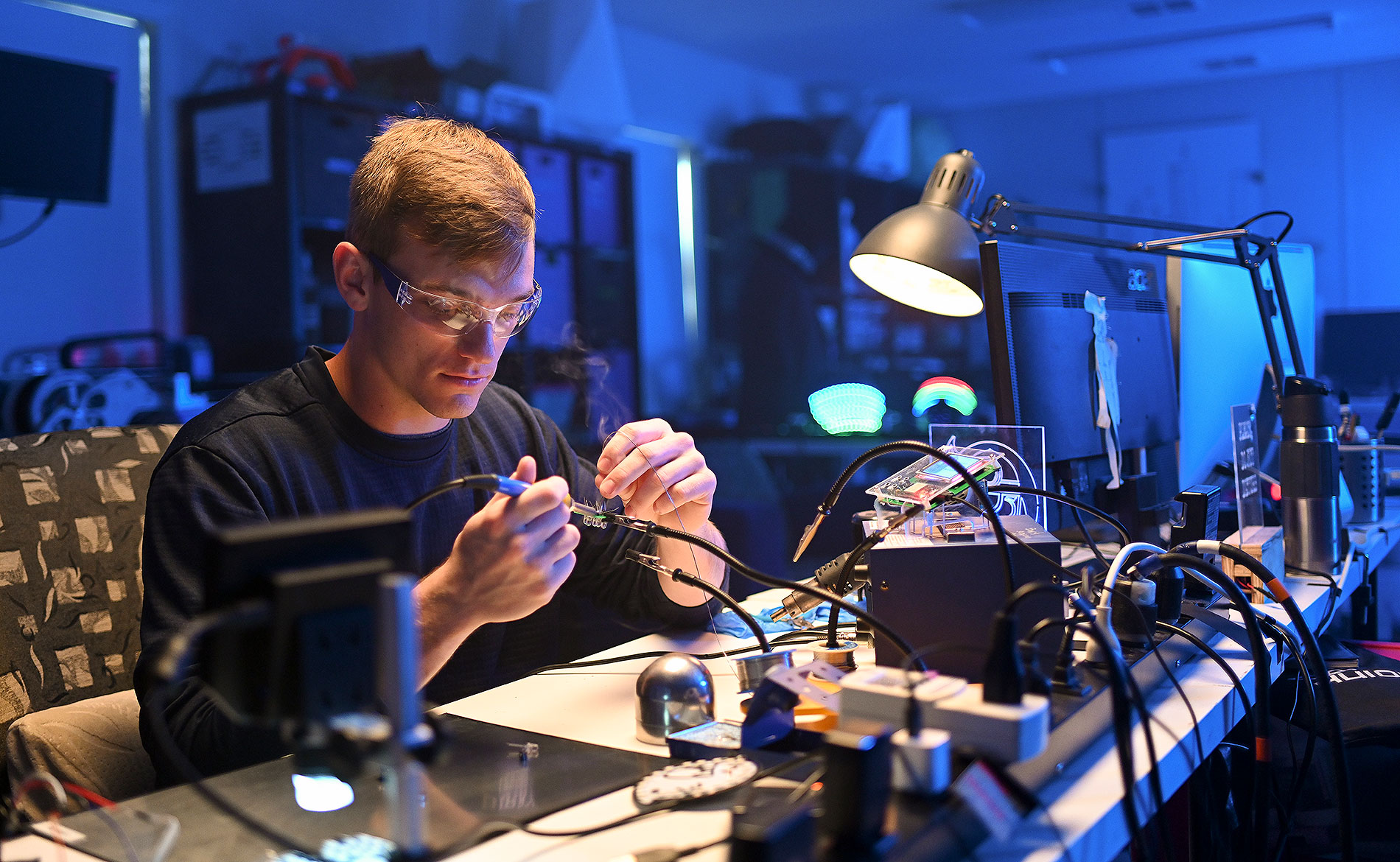 WORK. AND PLAY.
AND WORK.
Bring your creative solutions to diverse businesses — from managing livestock to running a bed-and-breakfast or bicycle shop — through our 15 our student-operated enterprises. Our campus makerspace, HackBerry Lab, offers the tools and equipment needed to design and prototype your ideas.
Creative Technologies
Courses
CRT 101
Introduction to Prototyping
Explore fundamental skills and basic theoretical concepts in the design process — including product-design-oriented innovation, creativity, human-centered design thinking and prototyping.
MKT 426
Experiential Marketing: Marketing Sports and the Arts
Consuming a meaningful experience — instead of just buying things — matters to consumers. This course examines marketing practices in sports and the performing arts, covering services marketing, experiential consumption, marketing strategies, sponsorship and licensing. Students prepare and evaluate sponsorship proposals through projects with actual organizations.
CRT 320
Programmable Logic Controllers & Advanced Robotics
Learn the fundamentals of Programmable Logic Controllers, including programming, connections and start-up procedures. Explore basic robotic concepts, including robot applications in the workplace, robotic language programming and human interface issues.
Creative Technologies
LIVES
Majoring in creative technologies can lead graduates down a variety of paths. Luke Steel's passion for solving problems and sharing knowledge with others has led him to a unique position as the makerspace specialist at the Georgia Cyber Center.
"Being a creative technologies major meant tackling challenging problems and iterating quickly," Steel explains. "This prepared me for my current position by teaching me to break down a problem to the simplest, most digestible chunk. Then, once the simple problem is solved, I can move up in design complexity."