---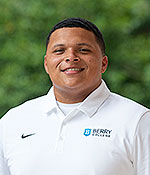 Name: Alex Sheppard
Title: Admission Counselor
Email: asheppard@berry.edu
Phone: 706.238.7923
Hometown: Tempe, AZ
Education: Bachelor of Arts in Business, Lake Forest College
Favorite spot on campus: Frost Chapel
What is one restaurant in Rome you can't get enough of?
Bella Roma


What tips do you have for the college search process?
Ask the right questions when deciding where you will end up investing in yourself.


Best book you've read recently?
Underground Airlines - By Ben H. Winters


What's your best dining hall creation?
Coco puffs with ice cream and peanut butter


What makes Berry College unique?
The collective togetherness and the community created to best serve the students.