---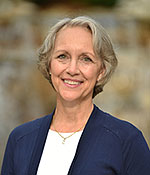 Name: Charlotte Walter Ellard
Title: Coordinator of Homeschool Admission
Email: cellard@berry.edu
Phone: 404.395.3116
Hometown: Roswell, GA (grew up in Orangeburg, SC)
Education: Bachelor of Science in Recreation and Parks Administration, Clemson University; Associate in Arts in Nursing
Favorite spot on campus: Mountain Trail up to House o' Dreams
WHAT IS YOUR FAVORITE THING TO DO IN ROME?
My favorite Rome activity by far is to watch the Rome Braves play. 


WHAT DO YOU DO IN YOUR SPARE TIME?
How many things can we list? I enjoy sports of all kinds—mostly watching at this age. Grandbabies, reading, swimming and watching my kids play ball or swim takes most of my spare time.  


WHAT's Your Best dining hall creation?
Baked fish on a spinach salad with tomatoes, sunflower seeds, bacon bits and croutons.


WHAT'S YOUR FAVORITE PART OF WORKING AT BERRY?
I work remotely so one of my favorite parts of working at Berry is the never-ending wonder at our beautiful campus when I do get to campus, but being a part of helping a student get to Berry is pretty hard to beat. 


RANDOM FUN FACT ABOUT YOU 
I have homeschooled all 12 of my children through high school.