---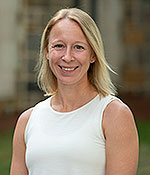 Name: Cori Bradham
Title: Associate Director of Admission
Email: cbradham@berry.edu
Phone: 706.238.7920
Hometown: Alpharetta, GA
Education: B.A. in Early Childhood Education, Berry College (15C), MS Management & Leadership, Western Governors University
Favorite spot on campus: Sand volleyball courts
WHAT IS YOUR FAVORITE THING TO DO IN ROME?
Paddle boarding and kayaking down Rome's rivers with my best friends is one of my favorite things to do! We finish it off by eating downtown and getting some Frios popsicles. 


What's one restaurant or meal in Rome that you can't get enough of?
Las Palmas for dollar taco night. See you there!


WHAT DO YOU DO IN YOUR SPARE TIME?
I am always outside playing some sort of sport with friends. I play Ultimate Frisbee all of the time so it's not surprising to find me with a Frisbee in hand around campus. Recently, my friends and I have played a lot of Spikeball at the volleyball courts while listening to Disney playlists. 


WHAT'S YOUR BEST DINING HALL CREATION?
This is a must. Trust me. Take a tortilla, spread peanut butter on it, get some oats, slice up a banana and drizzle some honey on top. Fold it in half, put in on the panini press for just a minute. BAM! You've got yourself a healthy, delicious snack. 


FAVORITE QUOTE
"Come, Mr. Frodo!' he cried. 'I can't carry it for you, but I can carry you." - Samwise Gamgee, J.R.R. Tolkien, The Return of the King