---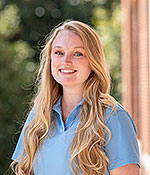 Name: Emily Reid
Title: Admission Counselor
Email: ereid@berry.edu
Phone: 706.238.7917
Hometown: Murphy, NC
Education: Bachelor of Arts in Communication/Digital Storytelling, Berry College
Favorite spot on campus: WinShape Retreat Center
What is your favorite thing to do in Rome?
I have so many favorite things to do in Rome. Rome Axe Throwing is a lot of fun for the more adventurous! If you're a foodie like me, I love trying new restaurants in Rome like Blossom Hill and new ice cream places like Honeycream! Taking walks and watching summer sunsets with friends makes for a great time too. There's a lot to explore in Rome.


What is one restaurant or meal in Rome you can't get enough of?
Jerusalem Grill! Everything I've eaten there is amazing!


What do you do in your spare time?
I'm a photographer, so in my spare time I enjoy taking creative pictures! I love spending time with my family and friends, and getting out and being active when I can. I love traveling and exploring new places too.


What's your best dining hall creation?
Here's a simple recipe for those who have a big sweet tooth like me! Get a D-Hall chocolate chip cookie and warm it in the sandwich press. After you have warmed it, put the cookie in a bowl and add the soft serve ice cream on top. Then add chocolate syrup or any other toppings you'd like!


Favorite quote?
"Never let your failures go to your heart, or your success go to your head."