---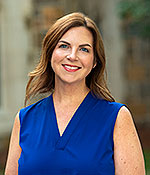 Name: Kinsey Stout
Title: Director, Engagement and Experiential Marketing
Email: kstout@berry.edu
Phone: 706.238.7918
Hometown: Calhoun, GA
Education: Bachelor of Music, Berry College; Master of Science in Counseling, Georgia State University; Master of Nonprofit Administration, University of Notre Dame
Favorite spot on campus: It's a toss-up between Frost Chapel and The Res
Favorite thing to do in Rome?
I love taking my dog on walks on campus or the riverfront trails, paddle boarding, and checking out the shops and restaurants around Broad Street.


What is one restaurant or meal in Rome you can't get enough of?
Harvest Salad from Doug's Deli and the chocolate mousse from Honeymoon Bakery. Life is about balance! :)


Why do you love working at Berry?
You'll hear this a lot, but that's only because it's true - the sense of community. Berry has been my home for half of my life. This is where I found my people, and I'm proud to be part of a place where we believe in the work, do our best to take care of each other, and laugh as much as possible.


What tips do you have for the college search process?
Start early, get organized, and make good use of your resources. And most importantly - VISIT! It's the best way to get a sense not only of where you will fit for the next four years, but also the place and people you'll call home for the rest of your life.


What you would recommend a student do during their visit to Berry?
First and foremost, keep an open mind! Listen, observe, and ask lots of questions. For some scenic views, take some extra time on campus to drive up to the Mountain Campus to see the iconic Old Mill and Frost Chapel. If you can spend a little time in Rome, check out Broad Street for some great locally owned shops and restaurants.