---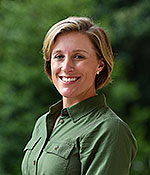 Name: Lacey Herring
Title: Assistant Director of Admission
Email: lherring@berry.edu
Phone: 706.236.2215
Hometown: Rockmart, GA
Education: Bachelor of Science in Exercise Science, Berry College; Master of Business Administration, Berry College
Favorite spot on campus: By the WinShape Retreat Center on Mountain Campus. The view from the parking lot at sunset is breathtaking!
What is your favorite thing to do in Rome?
Visit the farmers' market on Saturdays during the Fall.


What tips do you have for the college search process?
Make sure that you have a chance to visit each of the schools on your search list.  Does campus feel like home when you spend time on it? That's very important when narrowing down your search!


What do you do in your spare time?
I like to take walks around Rome with family and friends. I recently got into paddle boarding, so I enjoy doing that on the rivers of Rome whenever I get the chance!


What's your best dining hall creation?
Bacon and cheese fries. Simple, but excellent. You take a plate of fries, sprinkle some cheese and bacon bits on, heat everything in the microwave until the cheese is melted to your liking (but don't exceed 45 seconds because you will regret it) and BOOM...a delicacy. For added enjoyment, mix hot sauce and ranch in a bowl for dipping.