---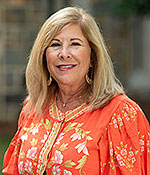 Name: Laura B. Miller
Title: Regional Admission Counselor
Email: lmiller@berry.edu
Phone: 904.333.4641
Hometown: Atlantic Beach, FL
Education: Bachelor in Science in Business, Berry College (81C)
Favorite spot on campus: The Normandy Barns on Mountain Campus
WHAT IS YOUR FAVORITE THING TO DO IN ROME?
I love strolling Broad Street and visiting all of my favorite restaurants and shops.


WHAT TIPS DO YOU HAVE FOR THE COLLEGE SEARCH PROCESS?  
Start early! Go visit! Research scholarships!  


WHAT'S YOUR BEST DINING HALL CREATION?
Chicken salad sandwich with bacon on the panini press.  Shredded chicken with buffalo ranch and cheese to make the best quesadilla!


DESCRIBE YOURSELF IN 3 WORDS.
Energetic, fun, loving