---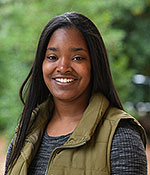 Name: Shakarah Boswell
Title: Admission Counselor
Email: sboswell@berry.edu
Phone: 706.236.2199
Hometown: Madison, GA
Education: Bachelor of Science in Marketing, Berry College (16C)
Favorite spot on campus: Softball field
What's your favorite part of working at Berry?
Spending quality time with my fun Co-workers and collaborating with them on exciting projects to improve the admission experience for our guests.


Where would you love to max-out your credit card if you didn't have to pay it back?
Nike Outlet.


What does your perfect day look like?
Spending the first half of the day at an amusement park and the other half at a water park without waiting in line to get on a ride.


What's your best dining hall creation?
Toasted bagel with butter and brown sugar.


Favorite quote:
"A smile is a curve that sets everything straight."