---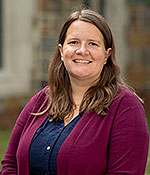 Name: Shira Kerce
Title: Assistant Director, Events and Visitor Experiences
Email: skerce@berry.edu
Phone: 706.236.5492
Hometown: Rome, GA
Education: B.A. in English Literature, Berry College; M.A. in Professional Writing, Kennesaw State University
Favorite spot on campus: Frost Chapel
What is your favorite thing to do in Rome?
Go to farmers' markets and local parks with my daughter.


What do you do in your spare time?
Read books and go camping with family and friends.


What's one restaurant or meal in Rome that you can't get enough of?
The coca-cola frap at Swift & Finch


Best book that you've read recently
"Infinite Country" by Patricia Engel and "Luster" by Raven Leilani


Random fun fact about you
I was born in Africa.
What you would recommend a student do during their visit to Berry?
Ask your tour guide a lot of questions - they are your best resource to learn all about life at Berry!