---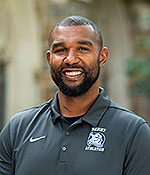 Name: Zackry Smith
Title: Assistant Director of Admission & Athletic Recruitment Coordinator
Email: zsmith@berry.edu
Phone: 706.236.2199
Hometown: Newnan, GA
Education: Bachelor of Arts in Communication/Public Relations, Shorter University; Master of Arts and Leadership, Shorter University
Favorite spot on campus: Swan Lake on Mountain Campus
What is your favorite thing to do in Rome?
Explore at Berry (I've been here for 7 years, and I still find little gems all over campus that wow me!)


What is one restaurant or meal in Rome you can't get enough of?
Smoked wings at Moe's BBQ


What do you do in your spare time?
Play with my 3 young kids! Outside of that, I really enjoy restoring sneakers


What's your best dining hall creation?
Omelette with the works (minus mushrooms) drenched in hot sauce! YUM!!


Favorite quote?
"Always be open, honest, and fair."  - My Father