---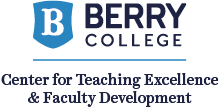 The Berry College Center for Teaching Excellence and Faculty Development (CTEFD) provides guided faculty development in the areas of teaching and scholarship to enhance the learning experiences of its students.

 We offer programs and services in the following areas:
Fostering conversations and learning communities around faculty-identified priorities/interests/needs
Identifying, sharing, and championing research-based teaching practices
Pedagogical consultations with faculty as part of continuing professional development
Providing resources to refine teaching and scholarship skills through workshops, grants, stipends, conference travel, etc.
We assist with all aspects of course design from revision of a single assignment to the creation of a brand new course. We can connect you with resources on the following topics:
Writing student learning outcomes
Developing an inclusive syllabus
Home page design
Rubric development & aligned assessments
Let us know how we can help you prepare for the semester! Student workers are available to assist with many tasks. 
The first weeks of the semester are crucial for setting student expectations. How should they interact with their peers, the instructor, and course materials - both during and outside of class? 
The CTEFD can help you think through communication strategies, first day of class agenda, and ways to build the foundation for a robust learning community. 
Why wait until final course evaluations to request student feedback? Small shifts can make a huge difference in the learning experience. Let us know how we can help request, interpret or take action on student feedback. 
Are you confident in the inclusivity of your final exam? Are you wondering if the results will reflect actual student learning outcomes? The CTEFD can connect you with peers, resources, and tools to ensure the integrity of your assessments.
What worked this semester? What didn't work? How can you be sure? Let us help you interpret feedback and pair it with actionable steps to improve your courses - for both you and your students. Interested in sharing your results at a conference or through publication? Let us know! We're happy to partner with you in these efforts.
Upcoming Events
CDI Follow-Up Roundtable
 Midterm Student Feedback