Start now. Go far.
This we believe: You should get the chance to head into the lab and dive into real and important research as an undergraduate. It makes no sense to wait for graduate school. Because we learn best when using our hands. And because you're ready.
Here you will: Become familiar with the most up-to-date equipment and techniques. Get one-on-one mentoring from your professors as you work by their sides. Co-author papers and present at professional conferences. Which means your degree will be more valuable. And your road ahead all the more successful.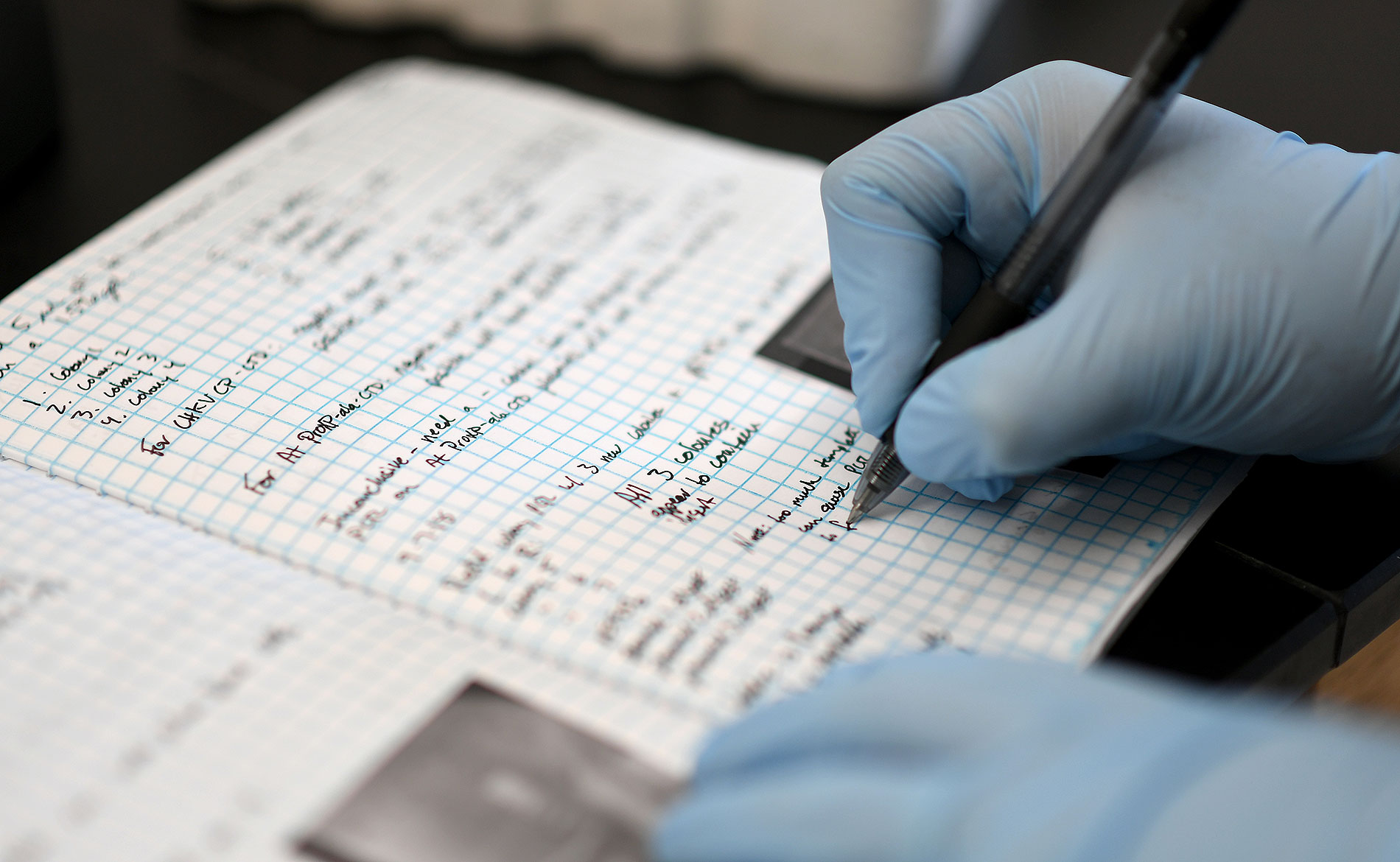 Work in the lab as a research assistant, supervisor or TA (all paid positions). Master the latest equipment and techniques. Learn how to present and defend your research. Prepare to thrive in grad school by learning the fundamentals now.
Chemistry and Biochemistry
FACULTY
Assistant Professor of Chemistry
Dr. Mark Turlington
Continuing a long-time passion for organic and medicinal chemistry, Professor Turlington runs a lab that builds on a recent revolution in cystic fibrosis (CF) therapy to discover, design and synthesize improved drug molecules for treating CF. An essential part of his work is a group of Berry undergraduate research assistants (and co-authors of the research findings) who are gaining valuable experience as they head into careers in medicine and chemistry.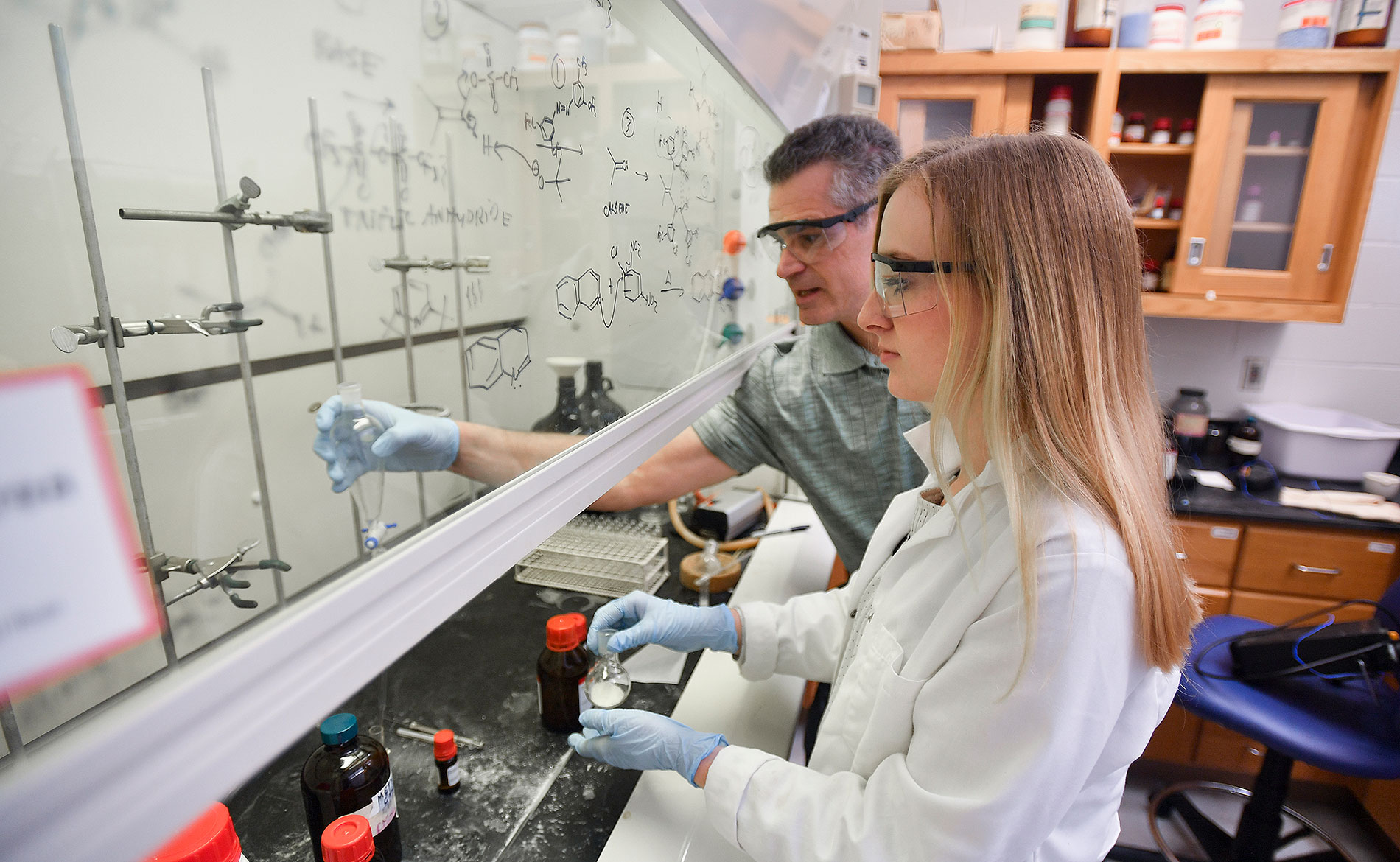 Get ready for the next level by using professional grade instrumentation and techniques—from nuclear magnetic resonance spectrometry to ion chromatography to and atomic absorption spectroscopy. (Apologies for all the syllables, but they were necessary.)
Chemistry and Biochemistry
Courses
CHM 375
Medicinal Chemistry
Study the effects of medicine in living organisms, including absorption, distribution and elimination of drugs, as well as how chemicals can be used to interfere with the course of a disease.
CHM 480
The Chemistry of Food
Learn how food is made of chemicals, and how they change during cooking. Understanding the chemistry underlying food and cooking can lead to a better understanding of our food purchases and consumption.
CHM 421
Advanced Organic Chemistry and Spectroscopy
Explore reaction mechanisms, reaction intermediates, synthetic methods; lab component emphasizes structure analysis and elucidation using modern spectroscopy.
Chemistry and Biochemistry
LIVES
Chemistry major Seth Jolly '22 recently received the Goldwater Scholarship, the most prestigious undergraduate award for students in science, mathematics and engineering. He says close mentoring in the research lab of Associate Professor of Chemistry & Biochemistry Mark Turlington, Ph.D. positioned him for the honor.
Seth notes that chemistry coursework gave him the background concept to conduct responsible research and that hands-on collaboration with Turlington reinforced practical knowledge of common organic lab procedures and built experience in writing formal papers: "All this knowledge culminated in my Goldwater application as I could convey why we took certain steps in our research and the chemical concepts that validate our claims."