Top-level academic leadership changes will give four highly regarded long-time faculty members the chance to take on new roles this fall.
Dr. Jackie McDowell, dean of the Charter School of Education and Human Sciences, and Dr. Gary Breton, dean of the School of Mathematical and Natural Sciences, both are stepping down June 30 to return to the classroom. McDowell also is expanding her work as assistant provost for external relations, while Breton is committing more time to research.
Filling their very large shoes are Dr. Alice Suroviec, professor and chair of chemistry and biochemistry, who has been tapped as SMNS dean after a national search; and Dr. Alan Hughes, professor and chair of psychology, who will serve as interim dean of the Charter School. They are assuming their new roles July 1.
Transforming education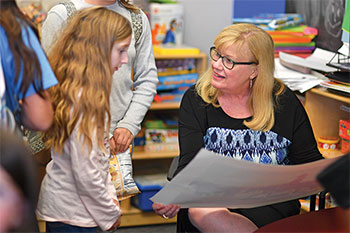 During her 22 years as dean, McDowell led the transformation of Berry's teacher-education program into one of the most significant in the country. Advances under her leadership include rebuilding the education curriculum, overseeing the renovation of the historic Cook Building as a new home for the Charter School, instituting yearlong student-teaching experiences, and launching the South Rome Early Learning Center.
Also during her tenure, McDowell led the restructuring of Berry's physical education department into the Department of Kinesiology, a move that paved the way for the creation of the exercise science and sports administration programs. Berry's psychology department also saw exceptional growth, including the addition of forensic psychology, sports psychology and a minor in applied behavioral analysis.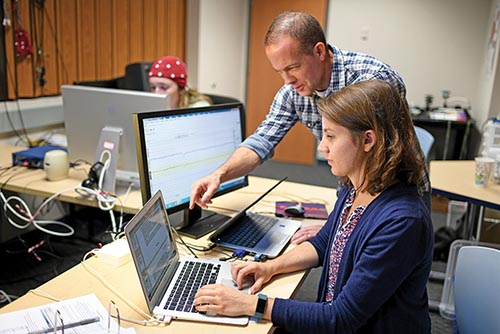 Hughes, a member of the psychology faculty since 2007, is well positioned to step in as interim dean, having served on numerous committees and task forces across campus. A participant in the Council of Independent College's 2019-20 Senior Leadership Academy, Hughes is currently working with Suroviec to help academic departments college-wide improve their institutional effectiveness plans.
---
Advancing science
Breton began his academic career at Berry in 1994, quickly rising through the ranks to serve two terms as chair of chemistry and biochemistry. In 2013, he was named F.E. Callaway Professor of Chemistry and interim SMNS dean. A year later, his appointment as dean was made permanent.
Breton has worked closely with his colleagues to develop and refresh curricula, enhance learning environments, advance teaching methodologies, and enrich and expand scholarship opportunities for faculty and students.
 Breton also oversaw the design, construction and curation of McAllister Hall's Irene and Dewey Large Museum; established a dual-degree astronomy program with the University of Hawaii at Hilo; and worked with Dr. Tom Kennedy, dean of the Evans School of Humanities, Arts and Social Sciences, to establish the interschool Department of Environmental Science and Studies.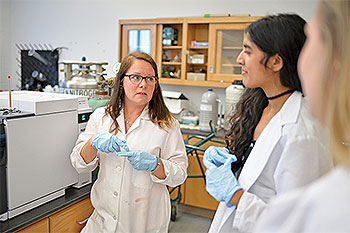 Suroviec joined the Berry faculty in 2007 and became chair of the Department of Chemistry and Biochemistry in 2016.
A consummate teacher and colleague, she is a recipient of the First-Year Advocate Award and the Dave and Lu Garrett Award for Meritorious Teaching and has served in many campus leadership positions such as chair of the Faculty Assembly and the Institutional Effectiveness Committee. She is active in her field nationally, serving on the board of The Electrochemical Society and the Society for Electroanalytical Chemists. In 2019, she was a participant in the Association of American Colleges and Universities STEM Leadership Institute.