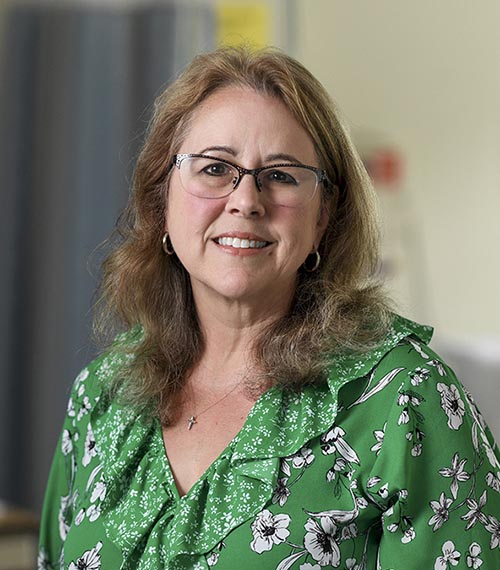 With the support of a generous benefactor and direction from a top leader recruited from Atlanta's Emory University, Berry's Bachelor of Science in Nursing program is increasing efforts to help combat a national shortfall of registered nurses projected to exceed 500,000 by 2030.

The new Bobbie Bailey and Audrey Morgan Nursing and Medical Professions Scholarship, made possible by a $5 million gift from long-time Berry supporter Audrey B. Morgan, was awarded to an inaugural group of 22 students last fall. Recipients benefit from direct admission to the nursing program, additional scholarship support and opportunities to engage in local clinical settings throughout their four years at Berry.

Plans also are in place to add faculty, all with the goal of doubling the number of nursing graduates Berry produces each year.

Leading these efforts is Dr. Carolyn Reilly, who joined Berry as director of nursing after most recently serving as professor of clinical nursing at Emory. She brings 30-plus years of clinical, scholarly research and teaching experience to her new role, including decades of caring for critically ill and cardiovascular patients. Her credentials include a Ph.D. from the University of Nebraska and a master's degree from Emory.

"We really have to meet the growing need for nurses," Reilly said. "I hope to take an already stellar program, with a solid reputation for producing quality nurses, and expand our size, scope and depth.

Among other initiatives, Reilly and her team are working on a fast-track program for students entering Berry with dual/AP credit, enabling them to complete their B.S.N. a semester early. They're also excited about a summer immersion experience for rising seniors in Africa.

"Our growth plan emphasizes the quality and compassion of our nursing graduates," Reilly stated, pointing to formidable rates of success on the NCLEX licensing exam and in job placements before graduation, as well as a proven track record for Berry nurses in the workforce.