Did you know that you could measure the size of a planet or study wildlife behavior without ever leaving Berry's gates? Situated on 27,000 acres at the foothills of the Appalachians, Berry's campus is rich with native species and habitats, and has established itself as a world-class destination for studying the sciences. Berry is even registered as an official biological field station for external researchers. If you are interested in learning more about the world around you — like plants, animals and ecosystems — Berry might be just the college experience for you.
This article gives a brief overview of the opportunities available to students in the biggest outdoor lab ever. With so much to explore and so many ways to get involved, Berry's outdoor laboratory is an immersive experience in the sciences. Undergraduate students looking to "go wild" with hands-on lab work are typically involved in three ways: outdoor lab experiences for a course, scientific research with a professor and internships/community outreach that utilize campus resources to educate the public.
Outdoor Lab Experiences
If Berry students enroll in the sciences, they are certain to have experiences in Berry's great outdoor laboratory where professors weave real-world research and application into their teaching. The following examples are snapshots of outdoor lab experiences on Berry's campus.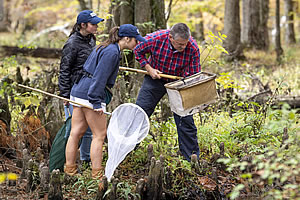 If you see students wading in a creek on campus, they might be studying a specific environment where species cohabitate. Henry Gund Professor of Biology David Conn focuses on zoology, entomology and parasitology, and many of his courses are part of the One Health undergraduate program, an integrated field of science focused on the intersection of human, animal and environmental health.
Conn describes Berry's campus as the perfect place to learn about how the health of these entities impacts one another. The campus is home to wildlife, domesticated animals and people, giving One Health students a rare undergraduate opportunity to study how they all interact. Students taking these courses experience, in person, the ways these ecosystems coexist.
Likewise, Professor of Physics and Astronomy Todd Timberlake utilizes the outdoor Pew Observatory on campus for his astronomy courses. With this unique space, he teaches about telescopes and allows students to study astronomical bodies with their own eyes.
Describing his students' lab work, Timberlake says, "We have a 6-inch refractor and a 14-inch reflector, which are good for viewing planets and relatively bright deep sky objects. We also discuss things such as like constellations, celestial navigation, seasonal variations of sunlight, etc., but obviously, it is important that the observatory be located well away from areas with lots of light pollution. Berry's campus is very unusual in having such a remote and relatively dark location that is still on campus."
Professor of Biology Chris Mowry asks students to choose an on-campus species and create short documentaries as a part of his coursework. One group of biology students discovered there were wolf spiders on campus. To get footage for their documentary, they had to decide whether to capture spiders to study them or set up ways to study them in their natural habitat.
Some labs at Berry also encourage students to consider how to best use the land. Associate Professor of Environmental Science and Anthropology Brian Campbell had one of his classes design and help build an outdoor classroom beside one of his research gardens. The classroom seats about 40 students and has access to a podium and whiteboard but allows students to be in the environment they are talking about and move quickly to examples of their learning on campus.
Campbell's students were also able to apply their environmental science and anthropological knowledge to help improve Berry's outdoor education setting. Now, science courses are not the only classes to utilize this space, as several liberal arts classes have also taken advantage of the popular outdoor setting.
Hands-on Scientific Research
Student research projects often begin in traditional lab work for a course. Then, their observations on campus may spark new questions based on what students see, find or even hear. Having a campus with so much biological diversity steps away from where students live allows them to ask a question in the outdoor lab. Interestingly, Mowry's coyote research started when a student asked what animal he was hearing at night on campus.
Student labs lead to ongoing research and projects. Mowry's students working with wolf spiders had the opportunity to connect with experts at the University of Cincinnati for their documentary and grow their professional network. Lab work in the Pew Observatory has inspired students like dual-degree engineering major Kaitlyn Kosten to ask their own questions and begin their own research.
Katie Owens '04 was a biology student who started out conducting research on campus and eventually took a job with the Nature Conservancy after graduation. Today, she still works with Berry students and the research happening on campus. In turn, Berry students have the chance to work on research that matters to institutions like the Nature Conservancy. They are not just learning but also growing their networks and getting a taste of what a career in research or a graduate program might look like.
One of the most surprising parts of scientific research at Berry is how much of it is accomplished by undergraduate students on campus. Dana Professor of Animal Science George Gallagher explains this unique opportunity at Berry: "I have utilized the Berry College campus for wildlife and domestic livestock research for well over two decades. A vast majority of the work has been involved with addressing issues related to mitigation of wildlife-human concerns and conflicts, including work with white-tailed deer, rats, snakes, raccoons, vultures, mice, opossums, groundhogs, rabbits, sheep, cattle and horses.
"My students being active participants in this research as undergraduates is a very rare opportunity, more commonly associated with those pursuing M.S. or Ph.D. degrees. This research exposure can set a student apart from others, particularly if interested in pursuing post-graduate studies in science. Additionally, learning the steps to develop and complete a research project is a critical experience in understanding how to solve a problem or address a specific question."
Dana Professor of Biology Mark Cipollini agrees that the undergraduate experience is unprecedented and adds that the campus itself is rare in the research world: "When I was a Ph.D. student at Rutgers University, I would have to drive two hours to get to my research sites in The Pine Barrens. Now, I walk outside my building and head out to the field. Not to mention, when I drove to my field sites in New Jersey, I was only visiting one ecosystem. Living and working among a diversity of habitats is such a unique experience."
Why and How to Get Involved in Research
Many students may have no real research exposure before coming to college but quickly learn it's one of the best ways to make knowledge come alive — motivating them to join the real conversations happening in a specific area of study. Rather than working on memorizing new material or learning a new concept for a grade, research gives students the space to apply knowledge and find answers to real questions (rather than asking a teacher).
Associate Professor of Environmental Science and Studies Zachary Taylor says, "Being involved in the process of new discovery is a powerful experience. I always remind students that they are working on their research. They are part of learning something for the first time ever, which is very exciting. They get to take ownership and become real experts in a field."
"Research is challenging, but it is fun, too!" says Professor of Biology Chris Mowry, sharing the delight his student researchers have experienced discovering unusual footage of wildlife caught with their research cameras.
At Berry, college students can get connected to research in several ways. In some programs, research experience is required for graduation. However, students may see research a professor is doing and have a question. Or maybe a student knows they want research experience and asks an advisor or gets connected through the Office of Undergraduate Research. Sometimes, research is an opportunity to get experience in a certain field. Research positions may count toward internships or Honors thesis work.
Cipollini says paid research positions on campus have lasting benefits: "It's an excellent opportunity to offer students who need a job, something on campus connected to their future. The research work contains a number of roles. Not everything is data collection. Students may have the opportunity to work in a management or project organization position."
In fact, students can work side-by-side with professors on research projects that may lead to professional presentations at conferences or publication of findings in peer-reviewed journals.
The Longleaf Pine Project is a research project that has had every type of role for student researchers. Beginning in the spring of 1999, the project was based on the work of a former Berry student's observations that many of the trees were not very old. Then students collected data on Berry's longleaf pine tree population, an endangered species, and participated in building a management plan to regrow the longleaf pine population on campus. More than two decades later, the project has "grown" from planting seedlings to the management of mature trees. This massive research project has included students engaged in classes, clubs, traditional research, National Science Foundation grants and job searches. Today, the Longleaf Pine Project is just one of many research projects that Cipollini manages.
Morgan Wingo, one of Cipollini's students who works with the American Chestnut Foundation, backcross breeds trees. Part of her work also entails perfecting and validating a new method of evaluating the hybrid chestnut seedlings' resistance to blight (a type of disease in trees).
Recounting her experiences, Morgan notes, "One of the most important takeaways has been recognizing that there is so much variability outside of your control in the biological sciences. We must be prepared to work with changing circumstances. Even when a researcher is as prepared, adaptability and flexibility are important to working efficiently in the lab and the field.
"Also, while it is wonderful to work with people that are as excited as you are about science, there won't always be just those people on your team. I've learned how important extensive, ongoing, cooperative communication is to the functioning of a crew. But my biggest takeaway of all is that biological research is absolutely what I want to do with the rest of my life."
Community Engagement
Berry's outdoor lab wouldn't be a Berry experience if it did not include teaching students to leave the world better than they found it. Given the dedication to environmental education beyond Berry's gates as well as inside them, the teaching and research happening in Berry's outdoor lab also incorporate community engagement. A dedicated group of faculty known as the Educational Land Management (ELM) committee work together to provide thoughtful strategies for caring for and utilizing the land for research and education. These projects are also made public on ELM's website so that the public is aware of the research opportunities happening at Berry.
"The work we do on campus is not meant to stay here," says Campbell. "We are helping students become experts so that they can make a difference in their communities. My student researchers and workers become leaders. When they leave Berry, they know how to plan for, speak to and manage a public group. They are better at strategically delegating responsibilities. Part of my job is coaching them up to be community leaders and helping them gain confidence."
Campbell's work includes gardens that serve as places for research, specifically seed harvesting, but they are also designed with food insecurity in mind. Campbell and his students are constantly donating food and seeds to local community organizations while also helping individuals learn how to grow their own food. One of his campus gardens is connected to a service cottage at Berry. Students who live in the cottage commit to preparing healthy meals from the gardens for the men's homeless shelter in town once a month.
In a garden near the Berry College & Elementary school, college students often teach young students about plants and plant care. Each week, a third grader is assigned as a "mini-gardener" and interacts with the college students.
Opportunities to educate or impact the public can also happen in the form of working with other researchers or institutions looking to learn something new. Hall participated in a project with the disease ecology branch of the Centers for Disease Control and Prevention (CDC) with One Health students. During this project, they trapped and analyzed the tissue of rodents known for distribution of human pathogens including Chagas disease, Rocky Mountain spotted fever, Anaplasma and Ehrlichia. The CDC enjoys partnering with Berry because of all they can access on the campus as well as the caliber of work and responsibility they see in Berry students.
"Having had the opportunity to complete research on one of the most wonderful outdoor environments has also opened the door for extensive community outreach," says Gallagher. "Being able to share our work not only with Berry students but with other audiences ranging from pre-K, community groups, to those residents in The Spires, Berry's residential retirement community on campus, has largely been made possible due to the Berry College campus being an outdoor living laboratory."