Hannah Marr Tittle '18, a senior programmer analyst at L.L. Bean, is the creator of the bridal business start-up Clique in Style. Tittle used her background in mathematics and computer science to start her corporate career and bridal business. She also benefited from her managerial role in the tutoring program. "Berry supports entrepreneurs in many ways," Tittle says, "but I was personally involved with the Student Enterprises program. This was real-world business experience that gave me a safe framework to learn the ins and outs of running a small business."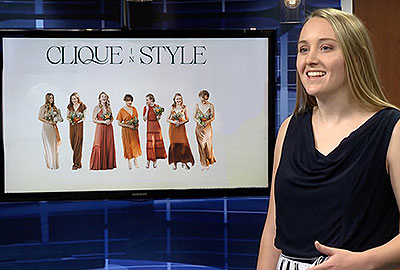 Q: What's the story behind Clique in Style?
A: The idea came from helping my best friend plan her own wedding. When I realized other brides needed help, too, I decided to make it a business. Clique in Style is an online platform that combines Photoshop technology, vision boarding and social media to help brides design, visualize and have confidence in their bridal party. We want to fill the gap that brides have right now in the DIY bridal planning space. We make complicated tech simple, elegant and user friendly in order to upgrade the way people plan their weddings and group outfit coordination.
Q: What are the challenges leading up to launch?
A: There is a massive learning curve to creating a start-up, and though my MBA through Husson University and experience in the Student Enterprises program at Berry helped, the process is slow. That being said, Clique in Style is in the final stages of development, and I am aiming for a January 2022 launch.
Q: How do you balance full-time work and your entrepreneurial goals?
A: Berry enables college students to do meaningful work with real work responsibilities while also balancing being a full-time college student. It was through the Berry work program in combination with being a math major that I learned more about time management. I love my current job at L.L. Bean and love pursuing my passions on the side. I love challenges, and I am passionate about helping people through technology. This keeps me going!
Q: How did influential mentors contribute to your success?  
A: Dr. Eric McDowell increased my passion for my major in mathematics when I didn't know I could love it more than I already did. The way he taught was perfectly aligned with the way I learned. The background Dr. Nadeem Hamid gave me in computer science landed me a dream job at a dream company directly out of college.