In high school, Cecilia Kolbash '25 followed design trends, made clothing and dreamed of owning a boutique. During her first year at Berry, the fashion connoisseur and thrifty shopper identified a local social entrepreneurship opportunity — finding a way to serve children in lower-income areas where transportation issues keep families from accessing high-quality clothing. She came up with the concept of Cecilia's Community Closet: a mobile boutique to bring fashion to K–12 children at no cost. Cecilia planned locations where students could shop and the strategies for being mobile, from folding tables and clothing racks to methods for transport. Her next hurdle was bringing her idea to life.
Though not yet enrolled in entrepreneurship courses, Cecilia forged ahead and applied for the Robert and Tessa Swarthout Entrepreneurship Launch Fund and the Entrepreneur Summer Fellows Grant. She was awarded both.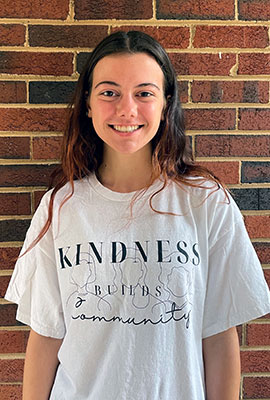 Paula Englis, Charles A. Dana Professor of Management and Entrepreneurship, says, "Cecilia saw a problem and thought she had a viable solution. She wanted to launch her nonprofit the summer after her freshman year and begin helping students by fall. She was an excellent listener and open to suggestions. Entrepreneurship is more than just making money; it's about making a difference. Cecilia definitely is doing that!"
Cecilia felt empowered by the advanced participants in Berry's entrepreneurship program, especially when pitching her plan to older student judges. "I didn't even know some of the resources they mentioned were out there," she remembers. "I just kept thinking, 'I can't wait to take these classes.'"
Hope Willoughby, lecturer of communication, also played a key role in Cecilia's Community Closet. Cecilia, who is studying PR, asked her to join the nonprofit board while it was still an idea. Willoughby mentored the process through one-on-one meetings and thoughtful questions about the nonprofit and Cecilia's future.
"Ms. Willoughby helped me rethink my major," Cecilia says. "She also encouraged me to minor in creative tech so I could learn about fabrication devices and prototyping."
The greatest challenge was legalizing her nonprofit, but Cecilia tackled that over the summer, and her focus shifted to donation locations in Rome and around Berry. She has clothes and the equipment she needs, but she is hoping for a wider variety of sizes and styles so that anyone can walk in and find something to help them express themselves.
Cecilia praises the unique approach of Berry's entrepreneurship program. Englis agrees: "There are lots of pitch competitions and entrepreneurship endeavors at other schools, but at Berry, students develop their ideas over time with support. Most colleges focus on entrepreneurs as seniors, and their programs are cookie-cutter or designed for large groups. But we can pay attention to each student and their goals throughout their time here. We customize their experience to fit their business development needs through coursework, activities, training, mentoring, internships, etc."
With Thanksgiving around the corner, Cecilia's Community Closet is gaining momentum. "We went to Open Door [residential home serving youth] and served 10 teenage girls!" Cecilia says. "We also won the Social Impact Challenge and represented our nonprofit at Mountain Day and will participate in a mini market on November 18."
Look for donation stations in the Rome area or contact the nonprofit Berry College Volunteer Services to get in touch with Cecilia's Community Closet.