Fabian Cummings, an internal agency staff nurse in the Emergency Care Center at Atrium Health Floyd in Rome, Georgia, started his career during the second wave of COVID in 2021. He took care of patients in the Cardiopulmonary Intensive Care Unit at AdventHealth Redmond, formerly Redmond Regional Medical Center in Rome.
Cummings took time from his busy schedule to reflect on how the Berry nursing program prepared him for the challenges of his job. Despite the burnout rate among new nurses (33% leave the profession within the first two years), Cummings is going strong. Real-world training through clinicals and jobs facilitated through Berry's LifeWorks program prepared him to focus on day-to-day demands while responding to patients and their families with respect and humanity.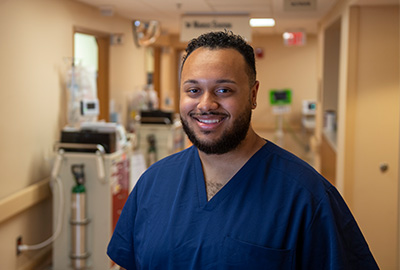 Q. What do students learn from clinical rotations?
A. We had clinicals every week for the duration of the program. Though we were only able to provide patient care under the scope of a patient care tech, this was still a vital part of our curriculum, as we were directly involved in the care of patients. Having clinical experience early in the program allowed students to understand the complexity of bedside nursing, and they were able to determine very early whether bedside nursing was a viable career choice for them.
Q. How does volunteering benefit a nursing student?
A. My work with Heyman Hospice in Rome was my first role as a member of an interdisciplinary team providing direct patient care. Prior to this position, I was unsure of what role I wanted to hold in medicine. Heyman Hospice allowed me to work closely with nursing staff and see the compassion and care they have for their patients. Watching these nurses allowed me to better understand the vital role that nurses play and greatly influenced my decision to be a bedside nurse.
Q. How did LifeWorks help you secure a paid position while a full-time student?  
A. The LifeWorks office was able to negotiate with nursing leadership at the facility to ensure I met all my requirements of employment while not interfering with my nursing school requirements. This allowed me to learn a lot of practical skills that I could apply to my curriculum in the BSN program and gave me the unique opportunity to apply real patient scenarios to case studies and content discussed during lecture.
Q. How does a liberal arts education add value to your nursing degree and prepare you for upward mobility in your career?
A. It has allowed me to better take care of patients from different cultural and socioeconomic backgrounds and has prepared me to better understand the diverse needs of the patient population we serve in northwest Georgia. This part of the state has a surprisingly diverse mix of ethnicities and cultures, each of which has implications for their medical care. Having learned about many of these cultural differences in foundation courses at Berry, I am better equipped to provide my patients with the highest quality of care while also considering their cultural beliefs.
Q. What advice do you have for prospective students considering the BSN nursing program at Berry?
A. Get as much clinical exposure as you can during your undergraduate studies. This will not only diversify your resume and open employment opportunities, but you will be well equipped for the transition into clinical practice after graduation. Take advantage of the partnerships that Berry has with the community and network with hospital staff and leadership … building your professional network early in your undergraduate degree track will be beneficial in the long run.
Curious about Berry's nursing program? We'd love to hear from you!